What is VAWA, and can men qualify?
VAWA stands for Violence Against Women Act, and it was originally created to end violence against women. However, today, women, men, children, parents, and the LGTBQ+ community can file a VAWA self-petition if they meet the requirements.
If you can answer yes to the following, you can file for VAWA.
You were a victim of abuse from your spouse or former spouses (must be divorced and file in less than two years) of a U.S. citizen or lawful permanent resident.

You can prove that your marriage was a "bona fide marriage" or marriage of good faith.

You lived or did live with your spouse.

You can prove that you were a person of good moral character.
VAWA for men: How to prove abuse?
For men, it can be challenging to come to terms with the fact that they are in an abusive relationship. Most people think of women or children in abusive relationships. Also, men usually don't go to the police to file a report against their spouse. So, they may not have documented or specific evidence of abuse.
According to recent stats:
1 in 4 gay men, 1 in 3 bisexual men, and 3 in 10 heterosexual men will experience rape, physical violence, and/or stalking by an intimate partner in their lifetime

1 in 7 men have experienced severe physical violence by an intimate partner during their lifetime.

Intimate partner violence accounts for 15% of all violent crimes.
Now, add a man's immigration status into this equation, and it seems even more difficult for a man to feel like they can get out of this situation.
Lastly, men might not even realize they are in an abusive relationship. You need not be beaten or physically harmed to qualify for VAWA. Some of the signs of how women abuse men include;
verbal abuse, including belittling, humiliation, harassment, and threats

trying to control or using manipulation (especially when it comes to an immigration status

money threats or financial extortion
If any of the above describes your current situation, you must speak with an experienced immigration attorney. An immigration attorney will be able to come up with a strategy that will put a case together and help you gather the evidence that you need for your VAWA case.
Our immigration law firm in New Jersey can help you put together your case. We work with clients locally, nationwide, and internationally.
What is the process of filing for VAWA?
The first step to self-petitioning under VAWA You must complete and file a Form I-360 (VAWA). If you would like, at this time, you can choose to file a one-step by filing the I-360 with the Form I-485. It is a good idea to file both simultaneously as it can speed up the process. There is no filing fee for VAWA; however, you will need to pay the filing fee for Form I-485.
You will also be required to provide the following;
Evidence of abuse (*your immigration attorney can help you put together your evidence. Again, this does not have to be physical abuse)

A Personal Declaration Letter which describes in detail the abuse or neglect (if applicable)

Affidavits of witness to the battery or extreme cruelty

Identifying documents including birth certificate, passport, driver's license, immigration documents proving your identity and current status

Current immigration status

Proof of residence with the abusive family member (lease, utility bills, a letter from your landlord.)

Proof that you live in the United States

Police clearance or FBI report

Your good moral character (letters of recommendation, awards, etc.)
Subscribe to download the free eBook
VAWA for Men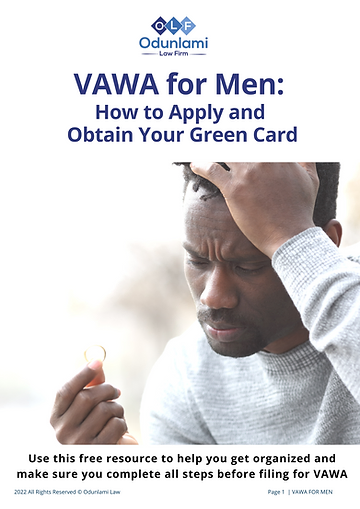 Subscribe to our newsletter
Will my abuser know about my VAWA Petition?


No, your abuser will not know that you have filed for VAWA. Under this
Confidentiality Law 8 USC 1367 states that when a person has applied for VAWA, their case is already in the hands of immigration, no matter the status.
Under this law, immigration (USCIS) cannot contact or talk to your abuser.
How long does it take for VAWA to be approved?
After you have submitted your VAWA application, it could take between 16 and 24 months to process and approve your VAWA case. Therefore, be sure to look out for the following documents as you await USCIS approval of your application.
You might receive a letter to send in additional documentation or proof. You will have 60 days to respond.

Your "Prima Facie Approval" letter will entitle you to basic public assistance. Of course, this does not mean your application has been approved, but it is a good sign.

An approval letter for your self-petition. (if you haven't filed your Form I-485 (adjustment to a green card or lawful permanent residence), you should do so now.

Or a denial letter
Read more about VAWA;
How to Write Your Personal Declaration Letter for VAWA Self-Petition
Immigration VAWA Help for Domestic Abuse in the LGBTQ+ Community
If you are an intending immigrant and have been a victim of domestic abuse or if you have questions about the immigration process, please get in touch with the Odunlami Law Firm at 973-993-1900 or email us at iao@odunlamilaw.com.
We can help you will your immigration needs.
If you wish to immigrate or help bring a family member to the United States, the Odunlami Law Firm can help. Also, if you are facing deportation or removal for any reason, you need our help. You may contact the law office for more information or to schedule an appointment.
Areas of Immigration Law:
Naturalization (Citizenship) Application

Immigrant Relative Petitions

Fiancé Visa Applications

Adjustment of Status and Consular Processing

Criminal Consequences and Deportation Defense

Violence Against Women Act (VAWA) Application

Special Immigrant Juvenile Status

Green Card Renewals

Temporary Work Visas

Temporary Protected Status

Deferred Action for Childhood Arrivals

Waivers