VAWA, or the Violence Against Women Act, can be a complicated process. It is important to separate the facts from the myths you may come across online. There are so many confusing things online that can sometimes cause you to think it would be impossible for you to be protected and receive the help you need to get out of a dangerous and abusive situation.
Our U.S. immigration firm focuses on VAWA, and we are here to help you debunk some of the false narratives you see online regarding VAWA. Here are the seven most popular myths below. But first, let's define what is VAWA.
What is VAWA?


VAWA offers protections and allows victims of domestic violence or spousal abuse to "self-petition" to obtain a green card without the cooperation of the U.S. citizen or permanent resident relative who is abusing them.
7 common myths you may find on the internet regarding VAWA
The decision to file for VAWA is difficult and can leave you unsure about what to do, how to feel safe again, and what your future might look like. We are explaining the truth about VAWA by debunking these seven common myths.
1. Only women can qualify for VAWA
This is actually false. VAWA was originally created to end violence against women, including immigrant women. Today, immigrant men and children and parents who are being abused by their relatives can receive protection under VAWA.
Here are the qualifications;
Spouses, former spouses (must be divorced and file in less than two years), of abusive U.S. citizens or lawful permanent residents.

The children of abusive citizens or lawful permanent residents who file before turning 21 (or 25, if the delay can be linked to the abuse)

Parents of U.S. citizens (aged 21 and over)

Parent of abused children of U.S. citizen or lawful permanent resident.
2. USCIS will contact your abuser

This is not true. Once you have filed your petition for VAWA, you have complete confidentially. It would be unlawful for USCIS to contact your abuser or inform them you have filed a self-petition.
3. Abuse from your abuser must be physical

The main requirement to qualify for VAWA is that the victim must be subjected to battery or extreme cruelty. However, forms of domestic violence may be physical, verbal, or emotional. Depending on the circumstances of the abuse under these categories may amount to extreme cruelty.
4. You must be married to your abuser
This is false. You can qualify for VAWA within two years after your divorce from your abuser. Since VAWA also protects men, women, parents, and children you further do not have to be married to your abuser. You just have to prove extreme cruelty.
5. In order to qualify for VAWA you must have a police report
Yes, a police report is helpful in VAWA cases and can document the abuse that you experienced, and can be used as a requirement for VAWA. However, a police report is not a requirement to apply for VAWA and self-petition.
6. You need photos to prove you were abused


This is not true. As mentioned above, there are different forms of abuse, including physical, verbal, and emotional abuse. If you have been verbally or emotionally abused, it would be hard to prove your abuse in photos. However, you do need to prove extreme cruelty, which an immigration attorney can help you gather your evidence.
7. If my petition is denied, I will get deported
This is a maybe. If you are being absolutely honest and truthful in your petition, you should have nothing to worry about. Your petition could get denied because of a lack of evidence. If you are working with an immigration attorney, they will be able to make sure you submit all the correct documents and provide all the evidence you need to prove your case. However, they are serious consequences for being fraudulent on your VAWA petition.
WATCH THE VIDEO: Correcting VAWA Misconceptions
Read more about VAWA;
How to Write Your Personal Declaration Letter for VAWA Self-Petition
Subscribe to download the free eBook
Ten Biggest Immigration Mistakes to Avoid When Filing Applications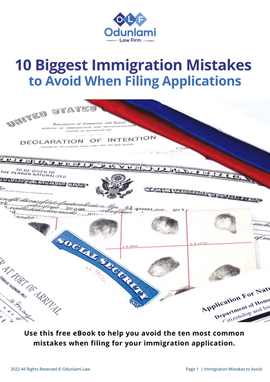 Subscribe to our newsletter
If you have any additional questions or would like help with completing your immigration application please contact the Odunlami Law Firm at 973-993-1900 or email us at iao@odunlamilaw.com.
We can help you will your immigration needs.
If you need an employment visa, wish to immigrate, or want to help bring a family member to the United States, the Odunlami Law Firm can help. If you are facing deportation or removal for any reason, you need our help. You may contact the law office for more information or to schedule an appointment.
Areas of Immigration Law:
Naturalization (Citizenship) Application

Immigrant Relative Petitions

Fiancé Visa Applications

Adjustment of Status and Consular Processing

Criminal Consequences and Deportation Defense

Violence Against Women Act (VAWA) Application

Special Immigrant Juvenile Status

Green Card Renewals

Temporary Work Visas

Temporary Protected Status

Deferred Action for Childhood Arrivals

Waivers