What is VAWA?
VAWA for Violence Against Women Act offers protections and allows victims of domestic violence or spousal abuse to "self-petition" to obtain a green card without the cooperation of the U.S. citizen or permanent resident relative who is abusing them. 
Despite the name, VAWA offers protection to women, men, parents, and children. In regards to children, VAWA allows them to apply for permanent U.S. status (green card) without the cooperation of their abuser. Furthermore, the child is no longer dependent on the abuser to obtain legal status in the U.S.
How do children qualify for VAWA?
You are the child of a U.S. citizen or permanent resident abuser, or

you are the child of a U.S. citizen or permanent resident abuser who lost citizenship or lawful permanent resident status due to an incident of domestic violence.

You have suffered battery/extreme cruelty by your U.S. citizen or permanent resident parent.

You have resided with your abusive parent.

You are a person of good moral character; a child less than 14 years of age is presumed to be a person of good moral character. A child over the age of 14 must prove that is in fact a person of good moral character.
Can a parent or beneficiary file for VAWA on behalf of a child?
Yes, under certain circumstances the beneficiary of the child may self-petition on behalf of the child. There are reasons why a beneficiary of a child would want to self-petition including;
The child is too young to really articulate his or her claims.

The child is too young to testify to the abuse.

The child may have experienced extreme trauma and is unable to testify and speak about his or her claims.

The beneficence may be able to assist the child to relieve stress and provide support and stability.
It is also important to remember that a child, especially a young child may not realize that they have been a victim of abuse or extreme cruelty. Therefore, you will have to carefully draw out information from the child to determine whether he or she qualifies under VAWA.


Immigration benefits for children
Not only will the children gain permanent resident status but they will also receive;
Public aide benefits

Provided with a work visa regardless of age.

An attorney may advise you to apply for an employment authorized document or EAD. This would be for children who do not have a form of identification and this will let them obtain a government-issued identification document that can be used to obtain a social security number.
How do children apply for VAWA?
You must complete Form I-360

If you are a self-petitioning child and you meet all filing requirements (see above), you will receive a notice (Prima Facie Determination Notice) which is valid for 150 days that you can present to the government agencies that provide certain public benefits to certain victims of domestic violence.

You can choose to file a one-step by filing the I-360 with the Form I-485 bundle at the same time.
How long does it take for VAWA to be approved?
After you have submitted your VAWA application, it could take between 16 and 24 months to process and approve your VAWA case. Be sure to look out for the following documents as you await USCIS approval of your application.
A letter to send in additional documentation or proof. You will have 60 days to respond

Your "Prima Facie Approval" letter will entitle you to basic public assistance. This does not mean that your application has been approved but it is a good sign

An approval letter for your self-petition. (if you haven't filed your Form I-485 (adjustment to a green card or lawful permanent residence), you should do so now.

Or a denial letter
Read more about VAWA;
How to Write Your Personal Declaration Letter for VAWA Self-Petition
Subscribe below to download our free eBooks
Free eBook: VAWA for Children of Domestic Abuse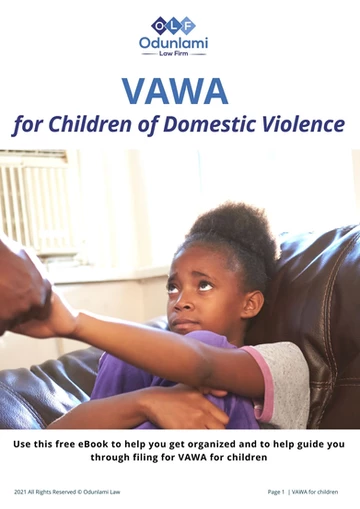 Subscribe to our newsletter
Are you looking for immigration services or more information regarding your fiancé visa or marriage-based green card? We can help.
Contact the Odunlami Law Firm at 973-993-1900 or email us iao@odunlamilaw.com
If you need an employment visa, wish to immigrate, or want to help bring a family member to the United States, the Odunlami Law Firm can help. If you are facing deportation or removal for any reason, you need our help. You may contact the law office for more information or to schedule an appointment.
Areas of Immigration Law:
Naturalization (Citizenship) Application

Immigrant Relative Petitions

Fiancé Visa Applications

Adjustment of Status and Consular Processing

Criminal Consequences and Deportation Defense

Violence Against Women Act (VAWA) Application

Special Immigrant Juvenile Status

Green Card Renewals

Temporary Work Visas

Temporary Protected Status

Deferred Action for Childhood Arrivals

Waivers