In case you missed it, immigration attorney, Ifeoma Odunlami hosted a free immigration webinar and gave a live presentation discussing the Violence Against Women's Act or (VAWA).
Ifeoma thought it was important to discuss VAWA because unfortunately, there has been an unprecedented rise in domestic violence due to staying home during the height of the COVID 19 season.
What is VAWA?
VAWA or the Violence Against Women Act offers protections and allows victims of domestic violence or spousal abuse to "self-petition" to obtain a green card without the cooperation of the U.S. citizen or permanent resident relative who is abusing them. VAWA applies to women, men, children, and parents of U.S. citizens.
VAWA since coming into law in 1994 has been amended multiple times, with each time giving more protection to victims of violence.
VAWA Presentation Topics


VAWA presentation topics include;
(click on each link below to watch the segment(s) you are interested in)
Watch the presentation above and learn more about VAWA here; How to apply for VAWA and obtain your green card.
Subscribe below to download our free eBooks
Free Checklist: How to Apply for VAWA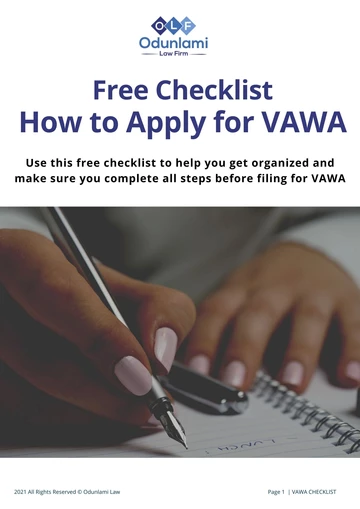 Subscribe to our newsletter
Are you looking for immigration services or more information regarding your fiancé visa or marriage-based green card? We can help.
Contact the Odunlami Law Firm at 973-993-1900 or email us iao@odunlamilaw.com
If you need an employment visa, wish to immigrate, or want to help bring a family member to the United States, the Odunlami Law Firm can help. If you are facing deportation or removal for any reason, you need our help. You may contact the law office for more information or to schedule an appointment.
Areas of Immigration Law:
Naturalization (Citizenship) Application

Immigrant Relative Petitions

Fiancé Visa Applications

Adjustment of Status and Consular Processing

Criminal Consequences and Deportation Defense

Violence Against Women Act (VAWA) Application

Special Immigrant Juvenile Status

Green Card Renewals

Temporary Work Visas

Temporary Protected Status

Deferred Action for Childhood Arrivals

Waivers