If you are in a difficult situation, in which you are a conditional green card holder, with an expiring green card, and your marriage is ending because of divorce, death, or abuse. You are able to file a waiver to remove your conditions and apply for a permanent resident green card.
What is an I-751 Waiver?
An I-751 Waiver allows an immigrant with a (two-year) conditional green card to file an I-751 petition by themselves without the support of a spouse and to remove the conditions on their conditional permanent residence status. If approved, an immigrant will be granted a (ten-year) permanent resident green card.
How do I qualify for an I-751 Waiver?
You must file for an I-751 Waiver 90-days before your conditional green card expires

The marriage was a marriage of good faith, but the marriage ended or is ending in divorce and the spouse is a United States citizen

The marriage was a marriage of good faith, but the marriage ended through the death of a spouse who was a United States citizen

The marriage was a marriage of good faith but during the marriage, you experienced extreme physical or mental cruelty by your United States citizen spouse.

The termination of my green card status and removal from the United States would result in extreme hardship.
What are the steps to file an I-751 Waiver?
Along with filing the I-751 Waiver, you need to also submit the following documents, if applicable, along with your filing fee.
A copy of both sides of your conditional green cards

Copies of your divorce documents, or documents to prove divorce filings

Evidence to prove your marriage was of good faith

Other evidence and documents (death certificate or abuse) to prove the end of your marriage

Evidence of abuse or extreme cruelty

Filing fee
How to prove a marriage of "good faith"
Proving that your marriage was of "good faith" is the most important part of this filing. You must prove that you both entered the marriage in good faith and not just to receive immigration benefits. Here are some examples of documents you should gather to prove your marriage was of good faith
Correspondence between each other – this includes cards, letters, emails, text message

Wedding photo and/or photos of moments celebrating events

Tax returns

Bank statements

Apartment lease or mortgage statement

Bills in both your names

Joint assets purchases

Medical insurance statements

Joint debit or credit cards

Proof from employer of spouse listed as emergency contact
Watch our video for more information regarding I-751 Waivers; Removing the Conditions on your Green Card Without Your Spouse's Help
How to file for an I-571 Waiver if you are not divorced


If your spouse is refusing a divorce, or you have experienced abuse or extreme cruelty, or you would face extreme hardship if forced to leave the United States, you may qualify to file under a waiver.
How to prove abuse or extreme cruelty


Here are some of the documents you will need to provide in order to prove abuse and/or extreme cruelty.
Photos of abuse

Police reports

Medical reports

Past or present court orders

Letters of support from counselors, mental health professionals, support groups, therapists, etc.
How to prove extreme hardship
Proving extreme hardship is not an easy task and it is not something you should try to prove alone. However, these are the types of documents and evidence you will need to gather.
Ability to speak the language of another country

Your age

Your children and the ability to adjust to another country

Your health conditions

The ability to earn an income or find a job in another country

How long you have been residing in the United States

Your family in the United States or family relationship in another country

Disruption of your education

The psychological impact of the conditional resident's removal

The current political and economic conditions in the country that the person would return to

Family and other ties in the conditional resident's country

Affidavits from people who have direct or indirect knowledge of spouse's abusive conduct
Steps after filing your I-751 Waiver
The process takes about 18 to 24 months, and each case depends on how well-prepared your case is. After filing you should expect to have an immigration interview. Since each case is reviewed on a case-by-case basis, it is extremely important that you have provided as much information as documentation as possible. It is best that you consult an immigration attorney to help you with the process.
Subscribe below to download our free eBooks
Free eBook: How to File I-751 Waiver Without Your Spouse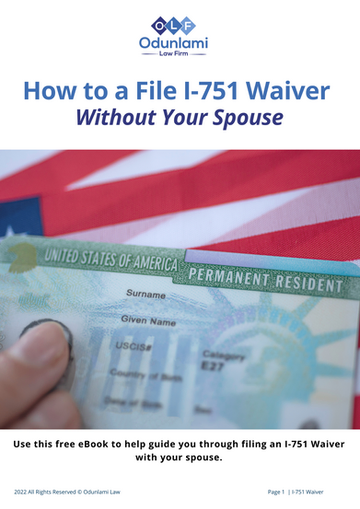 Subscribe to our newsletter
Are you looking for immigration services or more information regarding your fiancé visa or marriage-based green card? We can help.
Contact the Odunlami Law Firm at 973-993-1900 or email us iao@odunlamilaw.com
If you need an employment visa, wish to immigrate, or want to help bring a family member to the United States, the Odunlami Law Firm can help. If you are facing deportation or removal for any reason, you need our help. You may contact the law office for more information or to schedule an appointment.
Areas of Immigration Law:
Naturalization (Citizenship) Application

Immigrant Relative Petitions

Fiancé Visa Applications

Adjustment of Status and Consular Processing

Criminal Consequences and Deportation Defense

Violence Against Women Act (VAWA) Application

Special Immigrant Juvenile Status

Green Card Renewals

Temporary Work Visas

Temporary Protected Status

Deferred Action for Childhood Arrivals

Waivers