If you are currently living in another country but are married to a United States citizen, in order to move permanently to the United States you must apply for consular processing to obtain a green card. During this process, your country of origin will process your application instead of the United States.
How to apply for a green card through the consular process
During this process, your spouse will act as your sponsor. The first thing your spouse will need to do is to file and submit Form I-130. The purpose of this form is to prove a valid marriage of "good faith" that would entitle you to apply for a green card. Once USCIS approves your petition you are officially able to apply for a green card.
*This decision usually takes between 7-10 months. Within 2-3 months you may receive a Request for Evidence (RFE) in which the USCIS may request more information. Once accepted you will receive a letter with an immigrant case number and an invite for you to apply for a green card.
How do I apply for a green card?
Once you have received your letter inviting you to apply for a green card, here are your next steps;
Submit your immigrant visa filing fee along with filing form DS-261

Once you have been approved you will need to file form DS-260.

At this time your spouse will need to also submit form I-864 which vows that your spouse will financially support intending immigrant if the immigrant is not able to do so.

Once all the forms have been completed and submitted, your home country will notify you of your immigration appointment for an immigration interview at the U.S. embassy in your home country
What should I expect at the immigration interview?
During your immigration interview, you will bring your passport and all necessary documents. You will be attending this interview alone, without your spouse. You will be questioned about your marriage and your application to ensure your marriage is in "good faith".
At the end of the meeting, you will either be granted immediate approval or it might take a few or so depending on if you need to provide additional documentation.
What should I expect once I am approved?
Once you are approved, you will be given a Visa packet that you must bring with you when you travel to the United States. You may not open this packet, and you must arrive in the United States 6 months after you have been approved.
Once you arrive in the United States you must present your unopened packet to the United States Customs. They will look over your packet and decide if you are allowed to enter the United States. If you are allowed into the United States then you will enter as a permanent resident of the United States. Once all your fees have been paid you will receive your green card within 45 days.
This whole process can take up to 18 months. It is best to consult with an immigration attorney to ensure that you have applied and filed correctly and gathered all the documentation you need.
Subscribe to download the free eBook
Free eBook: Preparing for Your Marriage Interview
Document Checklist and List of Popular Interview Questions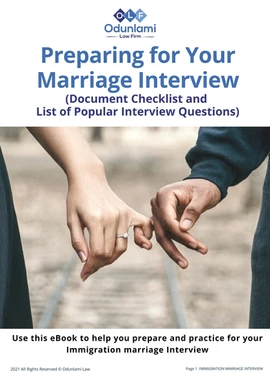 Subscribe To Our Monthly Newsletter
and receive our FREE Immigration eBooks
Are you looking for immigration services or more information regarding Fiancé Visa/K-1 Visa and obtaining your Green Card? We can help.
Contact the Odunlami Law Firm at 973-993-1900 or email us iao@odunlamilaw.com
If you need an employment visa, wish to immigrate, or want to help bring a family member to the United States, the Odunlami Law Firm can help. If you are facing deportation or removal for any reason, you need our help. You may contact the law office for more information or to schedule an appointment.
Areas of Immigration Law:
Naturalization (Citizenship) Application

Immigrant Relative Petitions

Fiancé Visa Applications

Adjustment of Status and Consular Processing

Criminal Consequences and Deportation Defense

Violence Against Women Act (VAWA) Application

Special Immigrant Juvenile Status

Green Card Renewals

Temporary Work Visas

Temporary Protected Status

Deferred Action for Childhood Arrivals

Waivers