The United States Citizenship Civics Test is the last significant step in obtaining your citizenship. If you are currently at this point in your citizenship, congratulations! Your naturalization interview is an exciting next step, and you should be proud to be at this point. You should know that a USCIS officer will conduct three parts during your naturalization interview.
First, the officer will review your application and ask you questions about your application and your background.

Next, you will be given an English test in which you will be excepted to speak in English, read aloud one of three sentences in English, and write out a least one of the three sentences given to you in English. The officer will be able to determine how well you can speak, read, write, and understand English.

Third, you will take the civic test. There are 100 possible questions. The officer will ask you 10 questions from the list, and you must answer at least 6 of the 10 questions correctly to pass.
Because of the seriousness of this interview, it is imperative that you take the time to prepare for your naturalization interview. Our immigration attorneys are here to help you prepare for your naturalization interview by giving you guidelines and a free resource guide to help your practice and prepare.
Who is eligible for United States citizenship?
The requirements for United States citizenship may differ depending on your situation. However, here are the general requirements.
Be at least 18 years old at the time you file Form N-400, Application for Naturalization.

Have had a permanent resident with a green card for at least five years.

Lived for a least three months in the state where you applied for citizenship.

Have been a continuous resident in the United States for at least five years before filing Form N-400.

Show that you have been physically present in the United States for at least 30 months out of the five years before filing Form N-400.

Be able to read, write, and speak basic English.

Have a basic understanding of U.S. history and government.

Be a person of good moral character.

Demonstrate an attachment to the principles and ideals of the U.S. Constitution.
Who can be exempt from the citizenship test
Certain applicants qualify for exemptions from the English and civics test. Here are the requirements for exemption.
Must be age 50 or older when filing Form N-400 and lived as a permanent resident or green card holder in the United States for 20 years or more

Or age 55 or older when filing Form N-400 and living as a permanent resident in the United States for 15 years or more.
Otherwise, you may qualify for an exemption if you have a disability that impedes your ability to understand English or civics. You must submit Form N-648, "Medical Certification for Disability Exemptions," when you file Form N-400. A licensed medical doctor or clinical psychologist must prepare this form in less than six months before you file it.
Tips on how to prepare for your Citizenship Civics Test
Below are some great resources and helpful guidance tips to prepare you for your citizenship test.
If you need help applying for your United States citizenship, our immigration attorneys are here to guide you through the entire process. We work with clients throughout all 50 United States. Contact our office to set up an appointment.
Give yourself plenty of time to practice and study for the civics test.

Make sure you have the most recent civics test study guide. USCIS is currently working with the 2020 and 2008 civics test study guide depending on when you filed your Form N-400, Application for Naturalization.

Practicing for both the English portion of the test and knowing all the civics questions is not about just memorizing the questions and answers. You must fully understand what the question and answer mean because you could be asked in various ways.

You will need to research to see who are the most recent members of these government positions, including;

Your current State's U.S. Senators

Your U.S. Representative

The current Chief Justice of the United States

Your current State Governor

The current Speaker of the House

The current President and Vice President of the United States

Use the free online available resources to your advantage to help you study. Be sure to make sure these are the most recent and up-to-date versions. These include;

The current official civics test questions and answers

Take the online practice test.

Download the free USCIS pocket guide

Print out and use the free USCIS flashcards

Print out and use the free USCIS reading and writing flashcards to familiarize yourself with the vocabulary words used during your interview.

Find someone who can assist you in practicing and will take the time to ensure you understand the questions and answers.
Get even more tips on preparing for your citizenship civics test; just subscribe to download the free eBook.
Prepare for Your Citizenship Civics Test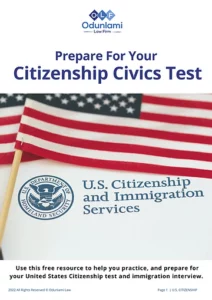 Subscribe to our newsletter
f you have questions about the immigration process or how to apply for
United States Citizenship, please contact the Odunlami Law Firm at 973-993-1900 or email us at iao@odunlamilaw.com.
We can help you will your immigration needs.
If you wish to immigrate or help bring a family member to the United States, the Odunlami Law Firm can help. Also, if you are facing deportation or removal for any reason, you need our help. You may contact the law office for more information or to schedule an appointment.
Areas of Immigration Law:
Naturalization (Citizenship) Application

Immigrant Relative Petitions

Fiancé Visa Applications

Adjustment of Status and Consular Processing

Criminal Consequences and Deportation Defense

Violence Against Women Act (VAWA) Application

Special Immigrant Juvenile Status

Green Card Renewals

Temporary Work Visas

Temporary Protected Status

Deferred Action for Childhood Arrivals

Waivers