How to get your green card through Special Immigrant Juvenile Status
What makes Special Immigrant Juvenile Status so special and different than the typical way you would get your green card is that a portion of it happens in family court. This is why it is called Special Immigrant Juvenile Status.
To qualify for Special Immigrant Juvenile Status, you need to meet the following requirements;
Must be single (at the time of filing your application)

Must be 21 years old or younger (18 in some states)

Reunification with one parent is not possible due to some type of abuse, abandonment, or neglect

Or one parent had died (this is considered abandonment because the parent can not longer support or provide

It is not in the child's best interest to be returned to their home country

Must be declared dependent on a juvenile court
*It should also be noted that you apply for Special Immigrant Juvenile Status up to six months before you turn either 18 or 21. Since you need a court date, you need to give the courts plenty of time to process your application and give you a date for your hearing.
It is best to speak with an immigration attorney because they will be able to put together a case and written testimony for abuse or neglect and help you gather proof. A case and written testimony will be used and presented in front of a family court judge. Abuse can be physical, emotional, psychological, or verbal. Parent neglect can be in food, shelter, or even education.
Steps to getting a green card after receiving the Special Immigrant Juvenile Status predicate order
The predicate order from family court makes special findings which must be included in your SIJS application. Once you have received the predicate order, you can apply for your green card by filing form I-360. This is the same form as VAWA. However, you will fill out the portion relevant to the SIJS application.
You can also file form I-485 (for your green card) in a one step filing with the I-360. Some applicants may have to wait until their I-360 is approved before filing the form I-485.
If you are currently in an immigration proceeding, an immigration lawyer will file a motion to terminate the immigration proceedings. it is important that you consult an immigration attorney so that the paperwork is filed correctly because Special Immigrant Juvenile Status can be complex.
The importance of consultation with an attorney to avoid your child's green card getting denied
With this recent example, we will share with you that by consulting an immigration attorney, and the attorney asking them a few questions, they would have qualified for special immigrant juvenile status and receive their green card.
Consultation Example #1:
A young person had his LPR mother file an immigrant petition for him. The i-130 was approved. However, the i-485 was denied.
They did not know why they had been denied.
He and his mother had used a Notario (a person who holds themselves out to be an attorney but is not really an attorney.) They did not know they weren't working with an attorney.
His green card was denied because the child was out of status when the mother filed for the child. So that child cannot adjust their status within the United States. They would have to do a consular process, and there are all these issues with leaving the country if they don't qualify for a waiver or pardon.
If they had consulted a lawyer, they would have known that they qualified for Special Immigrant Juvenile Status and could have gotten their green card without leaving the country.
When you consult with an attorney, you're not just consulting for the things you think you qualify for. The attorney is also screening you to see the other things that you may qualify for that may move faster for you and may be more convenient for you.
If you have a child who is the age of 18 or under the age of 21, it is so important that you
speak with an attorney to see if they qualify for Special Immigrant Juvenile Status.
Odunlami Law Firm can help you with your Special Immigrant Juvenile Status and assist you with getting your green card.
If you're a young person and don't have someone to help you, make sure you don't lose this opportunity to get a green card. Make sure you apply for Special Immigrant Juvenile Status before you are barred by your age.
We understand you're coming to this country without status. Getting to school is difficult because you don't qualify for loans, and getting a job is difficult.
It's just such a hardship for a young person to face being in a country where there really is no way for them to get their status.
Please share this video with anyone who may qualify for Special Immigrant Juvenile Status.
This is our law firm's passion and my mission to help young people get green cards so they can enjoy a vibrant life in the United States.
Subscribe to download the free eBook
How to Petition for Your Relative for a Green Card I-130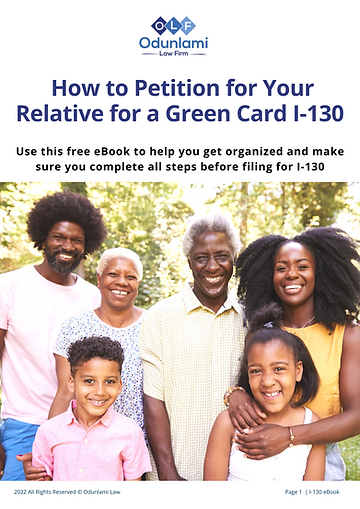 Subscribe to our newsletter
If you have any additional questions or want to see if you qualify for Special Immigrant Juvenile Status, please contact the Odunlami Law Firm at 973-993-1900 or email us at iao@odunlamilaw.com.
We can help you will your immigration needs.
If you need an employment visa, wish to immigrate, or want to help bring a family member to the United States, the Odunlami Law Firm can help. If you are facing deportation or removal for any reason, you need our help. You may contact the law office for more information or to schedule an appointment.
Areas of Immigration Law:
Naturalization (Citizenship) Application

Immigrant Relative Petitions

Fiancé Visa Applications

Adjustment of Status and Consular Processing

Criminal Consequences and Deportation Defense

Violence Against Women Act (VAWA) Application

Special Immigrant Juvenile Status

Green Card Renewals

Temporary Work Visas

Temporary Protected Status

Deferred Action for Childhood Arrivals

Waivers