As an immigration law firm, we work with clients in all 50 states who need assistance with their VAWA self-petition. As you file for VAWA (Violence Against Women's Act), you must complete all the necessary steps. 
This article and video provides a helpful checklist to guide you through all the essential steps to file correctly for VAWA. 
If you need additional guidance, our immigration law firm in New Jersey can help you put together your case. We work with clients locally, nationwide, and internationally. 
What is VAWA? 
VAWA stands for Violence Against Women's Act, and that name can be confusing because when you hear violence, you think it has to be something really aggressive. However, VAWA does not require you to be physically abused to be able to apply for VAWA. There are different types of abuse. It can be emotional, psychological, verbal, or financial. Also, VAWA is not just for women. Men, children, parents, and the LGTBQ+ community can file a VAWA self-petition if they meet the requirements. 
How do you qualify for VAWA?
If you can answer yes to the following, you can file for VAWA.
You were a victim of abuse from your spouse or former spouses (must be divorced and file in less than two years) of a U.S. citizen or lawful permanent resident.

You are a child or step-child (21 years old or less) that has been a victim of abuse. 

You can prove that your marriage was a "bona fide marriage" or marriage of good faith.

You are a parent of a U.S. Citizen (above the age of 21), and you are a victim of abuse. 

You lived or did live with your spouse.

 You can prove that you were a person of good moral character.
VAWA checklist – For a successful VAWA Petition 

Prove that the abuser is a U.S. Citizen or green card holder. 
Getting proof might seem easy, but it can actually be difficult for the abused victims to get this information. However, our immigration law firm has been able to get this information for our clients successfully. We have been able to
Check public records

Check voting records

Checking the Freedom of Information Act 

Having access to a social security number, passport, birth certificate, and marriage certificate, and being able to give that information to USCIS
Proof that you have lived together with your abuser.
You must have qualifying evidence when you file for VAWA, including proof that you lived with your abuser. Proof of living together can be before or after your marriage. Your evidence can be;
 Affidavits from a landlord or people you know

Utility bills with both your names

A lease agreement or mortgage 
It is important to note that according to a recently passed law, you do not need to live with your abuser for a specific time. As long as you can show that you live together at some point, complete that residency requirement. 
Evidence of a qualifying relationship. 
You must be able to show evidence of your relationship and how you are related to your abuser. This evidence includes a marriage certificate, birth certificate, or divorce decree. 
*If you feel like your marriage or divorce was not legal. Please watch the video starting at minute 10:00. You need to make sure your divorce is valid in your country or the United States. 
Evidence of a real "bona-fide marriage.
You must present all the evidence to show that you had or have a real marriage. A "bona-fide" marriage means that when you enter the marriage, you intended to be with that person, and not for the purpose of immigration. 
*If USCIS finds your marriage fraudulent, you get denied with a 204c. Unfortunately, this denial means It can prevent you from ever getting a green card.  
There are various ways to prove your marriage, including;
Joint bank account

Jointly on a mortgage or lease

Life insurance beneficiary

Health insurance 

Car insurance 

File your taxes jointly 

Photos of memories and experiences and photos of other people 

Your social media should reflect your marriage. 

USCIS will check your social media.

 

Proof of shared experiences with your spouse
*If you are applying for immigration benefits, make sure to use your joint bank account and make sure that it shows activity between the both of you. It's essential to have both names on the things mentioned above and have a variety of proof of a "bona fide" marriage.  
Proof of good moral character 
You will need to get an FBI report showing that you have never been arrested or if you have been arrested for what you were arrested for. 
 It's important to remember that all crimes are not equal. You can also have people in your community write letters on your behalf, proving you are a person of good moral character. 
Write a declaration or statement of your story. 
You must have a declaration of your story. You need to write a compelling written statement. There are a lot of things you need to include in your written statement, including the following;
How did you meet your spouse?

What was the relationship like in the beginning

What changed in the relationship

What type of abuse did you face?

Do you have any witnesses or documented evidence, including a temporary restraining order, police report, or hospital reports 

A letter or diagnosis from a psychologist 

A written affidavit from your church 
*You need to explain everything that happened to you in detail.  
This article: How to Write Your Personal Declaration Letter for VAWA Self-Petition, can walk you through the steps. 
Remember, VAWA is a lifeline. It doesn't matter how you came into the country, and it doesn't matter if you came in with a Visa or if your Visa has expired. VAWA is your self-petition.
Subscribe To Download The Free Resource eBook
How To Write Your Personal Declaration Letter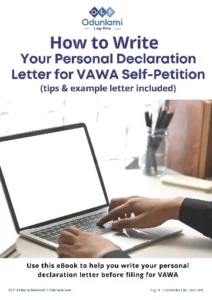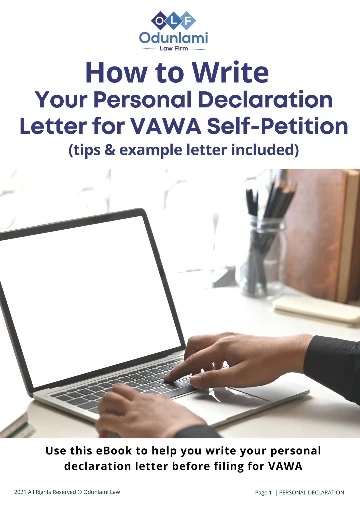 If you have any additional questions about VAWA or are looking for immigration services, don't hesitate to contact the Odunlami Law Firm at 973-993-1900 or email us at iao@odunlamilaw.com.
We can help you will your immigration needs.
Areas of Immigration Law:
Naturalization (Citizenship) Application

Immigrant Relative Petitions

Fiancé Visa Applications

Adjustment of Status and Consular Processing

Criminal Consequences and Deportation Defense

Violence Against Women Act (VAWA) Application

Special Immigrant Juvenile Status

Green Card Renewals

Temporary Work Visas

Temporary Protected Status

Deferred Action for Childhood Arrivals

Waivers