Immigrants who are victims of abuse are often faced with the dilemma or fear of what they can do to get their legal status if they want to leave their abuser. However, VAWA is a self-petition that can be a pathway to getting a green card as well as give victims relief and a fresh start to immigrant victims of abuse. A permanent solution like a green card can provide lasting stability and peace of mind.
It is essential for your VAWA case that you hire an experienced immigration attorney who specializes in VAWA cases because it can be a long and complicated process. You want to ensure you meet the requirements, have evidence, and avoid making common mistakes that could cause a denial.
Our immigration law firm is located in New Jersey. However, we work with clients locally, nationwide, and internationally who need assistance with their VAWA self-petition.
VAWA is a pathway to a green card for people who have an immediate relationship with a United States citizen or green card holder who has suffered abuse in that relationship. VAWA stands for Violence Against Women's Act, and that name can be confusing because when you hear violence, you think it has to be something aggressive. However, VAWA does not require you to be physically abused to be able to apply for VAWA.
There are different types of abuse. It can be emotional, psychological, verbal, sexual or financial. Also, VAWA is not just for women. Men, children, step-children, parents, and the LGTBQ+ community can file a VAWA self-petition if they meet the requirements.
How does VAWA protect the victim?
If you are looking to file for VAWA, contact an immigration attorney or immigration law firm. They can provide guidance, legal advice, and emotional support. Remember, you don't have to go through this alone.
It is crucial to understand that once someone has filed a VAWA petition, they have complete confidentially. It is unlawful for USCIS to contact your abuser or inform them you have filed a self-petition.
Also, no matter how much an abuser may threaten deportation, they have no power on a VAWA petitioner's case and cannot compel their deportation.

However, your petition could get denied because of a lack of evidence. If you are working with an immigration attorney, they will be able to make sure you submit all the correct documents and provide all the evidence you need to prove your case.
Throughout the process, keep your personal information and application details confidential. Update your address to a safe location, and inform any relevant parties that your abuser shouldn't have access to your information.
How does VAWA affect the abuser?
It will not affect the abuser because VAWA is under humanitarian case law and was created to help the victim. Immigration law is not responsible for filing charges against the abuser. VAWA is an entirely confidential and protected immigration case.
Everything within your VAWA petition is never disclosed to the abuser. Everything used in your VAWA petition stays between you, your immigration attorney, and USCIS.
The victim will be on their journey to secure their permanent immigration status and to give themselves the immigration justice that they need.
Luckily, the increased awareness of domestic violence and the availability of support services for survivors can make it more difficult for abusers to control their victims.
As mentioned above, it's important to note that VAWA is not about punishing abusers. It is about protecting victims and helping them to rebuild their lives. The law provides several resources for survivors, such as housing assistance, job training, and counseling.
How do you qualify for VAWA?
You can file for VAWA if you meet the following requirements.
The abuser is a United States citizen or green card holder.

You were a victim of abuse from your spouse or former spouse.

You can prove that your marriage was a "bona fide marriage" or marriage of good faith.

Prove that you lived or did live with your abuser.

You can prove that you were a person of good moral character.

You are a parent of a United States Citizen (above the age of 21) and a victim of abuse.

You are a child or step-child (21 years old or less) who has been abused by their United States Citizen / LPR parent, step-parent or adoptive parent.
As mentioned above, it's important to note that the abuse does not have to be physical. It can be emotional, psychological, verbal, sexual, or financial abuse. You do not have to have a police report or even hospital records.
Subscribe To Download Our Free Resource EBook
How Does VAWA Affect the Abuser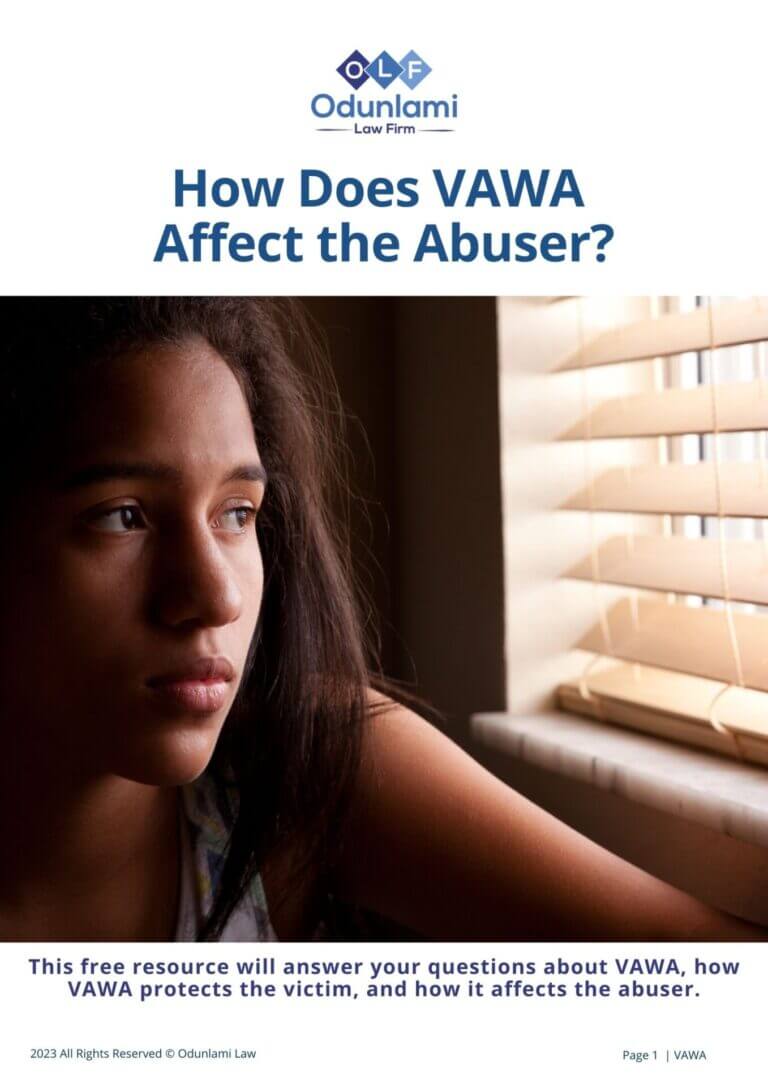 We can help with your VAWA self-petition.
If you have any additional questions about VAWA or are looking for immigration services, don't hesitate to contact the Odunlami Law Firm at 973-993-1900 or support@odunlamilaw.com.
Areas of Immigration Law:
Naturalization (Citizenship) Application

Immigrant Relative Petitions

Fiancé Visa Applications

Adjustment of Status and Consular Processing

Criminal Consequences and Deportation Defense

Violence Against Women Act (VAWA) Application

Special Immigrant Juvenile Status

Green Card Renewals

Temporary Work Visas

Temporary Protected Status

Deferred Action for Childhood Arrivals

Waivers

Deportation