Starting a new life and moving to the United States is an overwhelming, stressful, and difficult process. There are so many contradictory things on the internet so it can be difficult to figure out which is actually true when it comes to the immigration process and migrating to the United States.
Our U.S. immigration firm is helping you debunk some of the false narratives that you see online regarding U.S. immigration. Here are the seven most popular myths below.
7 Myths debunked about United States Immigration
1. The immigration process to the United States is relatively simple.
This is not true. The immigration process in the United States is extremely difficult. The only thing that is more difficult than the immigration process would be the United States tax code. Because the immigration process is so complex it is best to speak to an immigration attorney that will help guide you through the entire process.
2. VAWA which stands for Violence Against Women Act is meant for only women.
This is actually false. VAWA was originally created to end violence against women, including immigrant women. Today, both immigrant men and even children and parents who are being abused by their relatives can receive protection under VAWA.
Read more about VAWA;
How to Write Your Personal Declaration Letter for VAWA Self-Petition
3. Once you receive your green card it lasts forever
Even though a green card is called a permanent resident card. It unfortunately does not last forever. There are two types of green cards; one is called a Conditional Permanent Resident Card which lasts for two years and the other is the ten-year green card which is the permanent resident green card. Both expire. The two year green card is a conditional green card and the conditions need to be removed before a ten year green card is issued. Ten year green cards need to be renewed if the immigrant does not naturalize.
4. Green cardholders have the same right as United States Citizens
This is not true. Although green card holders can stay in the United States for the duration of their lives provided they renew their green card. Green card holders cannot vote in any U.S. elections. They do not have the right to permanent residence in the United States unless they go through the process of becoming a United States citizen. These rights can also be revoked at any point. Additionally, green card holders must spend at least 6 consecutive months in the US every year.
5. After I have married a United States citizen, I also immediately become a United States citizen
This is false. After you marry a U.S. citizen you still must go through a process for citizenship. Your next steps would be to meet the eligibility requirements for citizenship and complete the application process and exam. Marriage for citizenship alone is not a guaranteed path to naturalization. If you marry under fraudulent circumstances marriage fraud has very serious legal consequences.
6. My Fiancé' Visa guarantees my entry into the United States
This one is tricky because although your Fiancé Visa allows you entry to the United States, the final decision is made by the customs officer. They have the final say. You can learn more about Fiancé Visas here.
7. If any of your applications have been denied there is nothing you can do.
This is actually false. Your application could be denied simply because you filed the incorrect paperwork, left something incomplete, or filed your paperwork the wrong way. If this happened to you it is best to speak with an immigration attorney to see if your case may be reopened.
Subscribe to download the free eBook
Ten Biggest Immigration Mistakes to Avoid When Filing Applications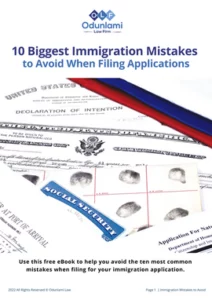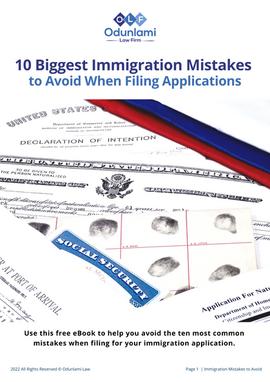 Subscribe to our newsletter
If you have any additional questions or would like help with completing your immigration application please contact the Odunlami Law Firm at 973-993-1900 or email us at iao@odunlamilaw.com.
We can help you will your immigration needs.
If you need an employment visa, wish to immigrate, or want to help bring a family member to the United States, the Odunlami Law Firm can help. If you are facing deportation or removal for any reason, you need our help. You may contact the law office for more information or to schedule an appointment.
Areas of Immigration Law:
Naturalization (Citizenship) Application

Immigrant Relative Petitions

Fiancé Visa Applications

Adjustment of Status and Consular Processing

Criminal Consequences and Deportation Defense

Violence Against Women Act (VAWA) Application

Special Immigrant Juvenile Status

Green Card Renewals

Temporary Work Visas

Temporary Protected Status

Deferred Action for Childhood Arrivals

Waivers