Moving is a stressful time in anyone's life, so it's completely understandable that if you have a pending immigration case with USCIS, you would be nervous about how this could affect your case. The short answer is yes, moving can affect your immigration case. However, our New Jersey immigration law firm is providing the steps you should take if you are moving and have a pending immigration case with USCIS. 
If you need additional guidance in obtaining your green card or have questions, our immigration law firm in New Jersey can help you reach your American dream. We work with clients locally, nationwide, and internationally. 
I'm moving. How could this affect my immigration case?
For anyone who is moving within the United States and has a pending immigration case, it is most vital that you notify USCIS of your change of address within ten days. Not only is this a requirement by law, but failure to do so could lead to not only delaying your case but possible denial, fines, jail time, or even deportation.
Who is required to update their address with USCIS?
Any nonimmigrant or immigrant with a visa includes tourists and students. As well as any permanent (two-year and ten-year residents) green card holders.
How to update your change of address with USCIS
Updating your change of address or new address is relatively easy. There are a few ways to notify USCIS of your address change. You can:
Update your address in your USCIS online account.

File Form AR-11, Change of Address, online or by mail.

Or call the USCIS Contact Center at 1-800-375-5283 (TTY 1-800-767-1833).
Be sure to have printed copies of any changes you make online and copies of any forms you send in, as things can happen, and sometimes things get lost. Also, consider using registered mail to have receipts and a record.
You must also change your address for each pending or recently approved application. If you use the online form to change your address, you will have the option to update your address for other applications at the same time.
It should be noted that if you're a victim of domestic violence, trafficking, or certain other crimes, then you must fill out Form AR-11 and mail it to USCIS's Humanitarian Division; you can't update their address online.
Can moving delay my immigration case?
Moving to a new USCIS jurisdiction may transfer your case to a different USCIS office, which could delay the processing of your case. In some cases, moving may also affect your eligibility for certain immigration benefits. For example, if you are applying for a green card based on your employment, you may need to show that you have a continuous offer of employment in the United States. Moving to a new location where you do not have a job offer could affect your eligibility for a green card.
How can I help ensure my immigration case does not get delayed?
To further help ensure there are no delays to your immigration case;
Update your new or updated address within ten days.

File all required paperwork on time.

Respond promptly to all requests from USCIS.

Keep your immigration file organized and up-to-date.

Consider hiring an 

experienced immigration attorney

.
I have a green card, and I am moving. When should I update my change or address?
Regardless of whether you have a ten-year or two-year conditional green card, you must notify USCIS within 10 days of changing your address.
Immigration law can be confusing. If you are considering moving while your immigration case is pending, it is essential to speak with an immigration attorney to discuss the potential impact on your case.
What if I moved after my immigration interview had already been scheduled?
You should still update your address within the 10 days requested. Depending on how close your scheduled interview is to your move date, a few things could happen;
USCIS will send you a rescheduled date and a new location for your interview.

If USCIS does not reschedule or it's too close to your interview date, you should attend your already scheduled interview.

If you have already had your interview, you should update your address within the requested time so that you get all the additional updates and correspondents from USCIS.
What happens if I forget to update my address with USCIS?
Mistakes happen, but failure to update your address within the requested 10 days could lead you to be fined or even deported unless you convince USCIS that you had a reasonable excuse or did not willfully fail to update your address.
I currently have a temporary address or no address at this time. What should I do?
You should update USCIS within 10 days, even if you are moving from one temporary address to another. If you currently have no address, you should update USCIS as soon as you resolve your situation and have an address, even if it's temporary.
What if I am moving outside of the United States?
If you have a nonimmigrant visa, there is no need to file. If you are a permanent resident, then you do need to file. You may also need to make other filings with the USCIS to preserve your permanent residence status in the U.S. before leaving the U.S. If this is the case, you should also speak with an immigration attorney.  
If you are concerned about how moving might affect your immigration case, consult an experienced immigration attorney. An immigration attorney can help you and answer any of your questions. 
Subscribe To Download Our Free Resource EBook
How Moving Could Affect Your Immigration Case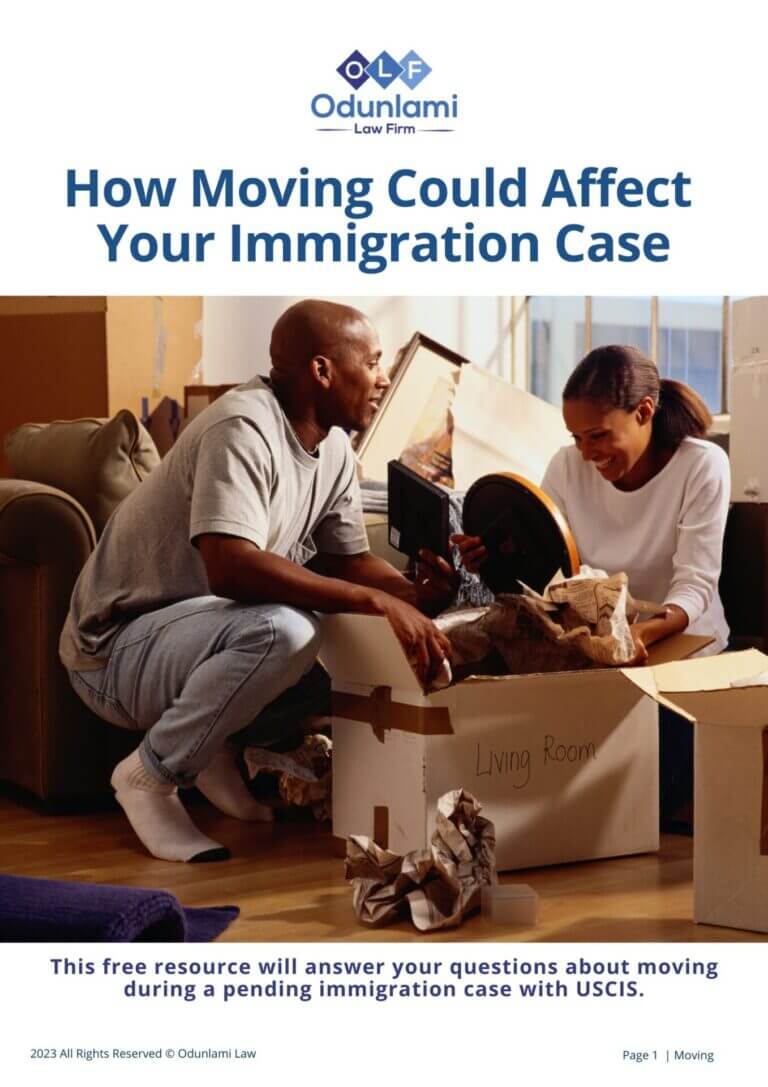 We can help with your immigration case.
If you have any additional questions about immigration or are looking for immigration services, don't hesitate to contact the Odunlami Law Firm at 973-993-1900 or support@odunlamilaw.com.
Areas of Immigration Law:
Naturalization (Citizenship) Application

Immigrant Relative Petitions

Fiancé Visa Applications

Adjustment of Status and Consular Processing

Criminal Consequences and Deportation Defense

Violence Against Women Act (VAWA) Application

Special Immigrant Juvenile Status

Green Card Renewals

Temporary Work Visas

Temporary Protected Status

Deferred Action for Childhood Arrivals

Waivers

Deportation