Starting in December last year, the Biden Administration created an updated and new version of Form I-485. As a result, the latest version of this application will include a new public charge portion and several additional questions. This article will walk you through the updated version and how you can start the application process of becoming a green card holder or permanent resident.
However, before you begin the green card application process, you must speak with an experienced immigration attorney to ensure that you meet the requirements. An immigration attorney will also be able to guide you through the green card process, ensure you have correctly submitted all the necessary documents, and understand the changes made to the green card application.   
Our immigration law firm works with clients throughout all 50 United States. You can contact our office to set up an appointment.
 or learn more below.
What are the requirements to apply for a green card?
You must fall under one of these categories to be eligible for a green card. 
VAWA

Victims of human trafficking and crime victims

Special Immigration Juvenile (SIJS)

Refugee or asylee status 

Humanitarian programs

Sponsorship by a family member

Sponsorship from U.S. employer

Individual filing
What is Form I-485?
Form I-485 is officially called the "Adjustment of Status Application" and is the official form to apply for a green card. Sometimes Form I-485 is referred to as an application for adjustment of status or an adjustment application.
What is a public charge?
For over a century, the government has defined "public charge" as anyone likely to need public benefits. Under the Trump era, this was undone, making it more difficult for immigrants to apply for their green cards if they received government assistance. However, as of now, the Biden Administration has rewritten the rule. As a result, individuals will not be penalized when applying for their green cards because immigrants choose to access the health benefits and other supplemental government services available to them.
What do these new changes to green card applications (I-485) mean?
Starting on Dec. 23, 2022, all green card applicants applying from within the U.S. must submit a new version of Form I-485 (Application for Adjustment of Status).
When applying for a green card, under the new ruling, if an applicant answers "yes" to public charge ground of inadmissibility on their form, they must provide the following information:
Size of household

Education degree, work-related certificates or licenses, or level of school completed. 

Total household income

Value of household assets and liabilities 

Received cash benefit programs for income maintenance

Received long-term institutionalization at the government's expense
This information above includes additional questions that are new to the green card application process. These additional questions are explained below. 
Assets and debt
In the new I-485 form, you will be asked questions about your annual income, assets, and debt. You will need to include your mortgage, car loans, student loans, additional loans, and any credit card debts of more than $10,000. 
Education and skill level
You will now be required to answer questions about your education, skill set, professional certifications, and licenses. 
Public benefits that you have collected from the state or federal government. 
The government will ask what cash benefit programs you have been receiving and who else is receiving these benefits (family members). The government will also ask if you have been institutionalized at U.S. government expense. 
Subscribe To Download Our Free Resource EBook
Applying for Your Green Card 
New Changes to Green Card Applications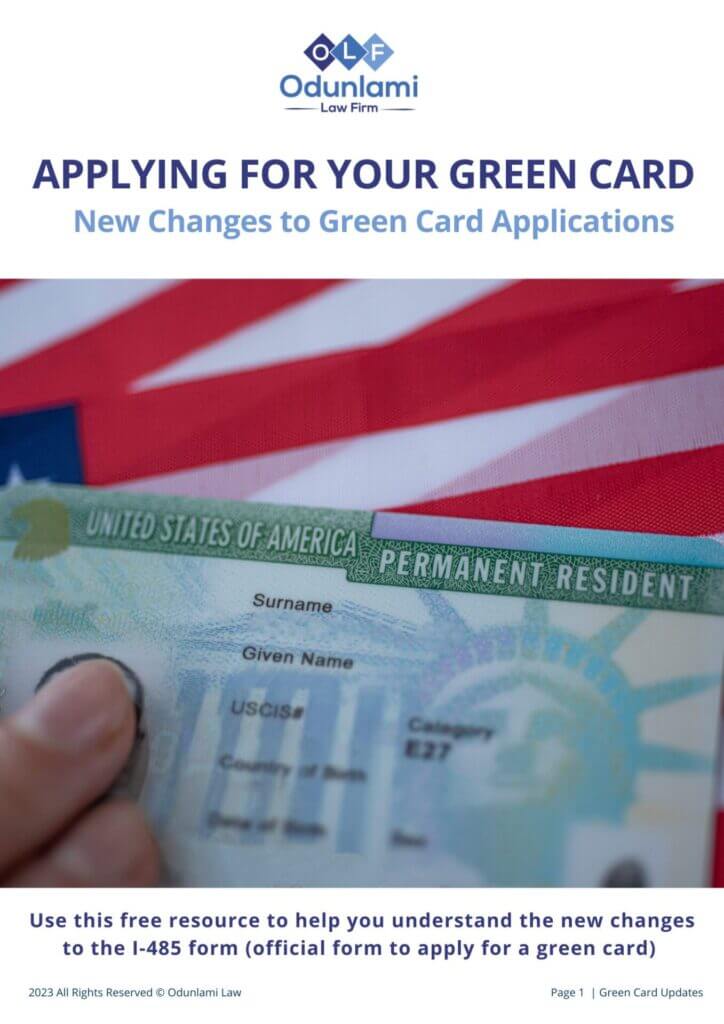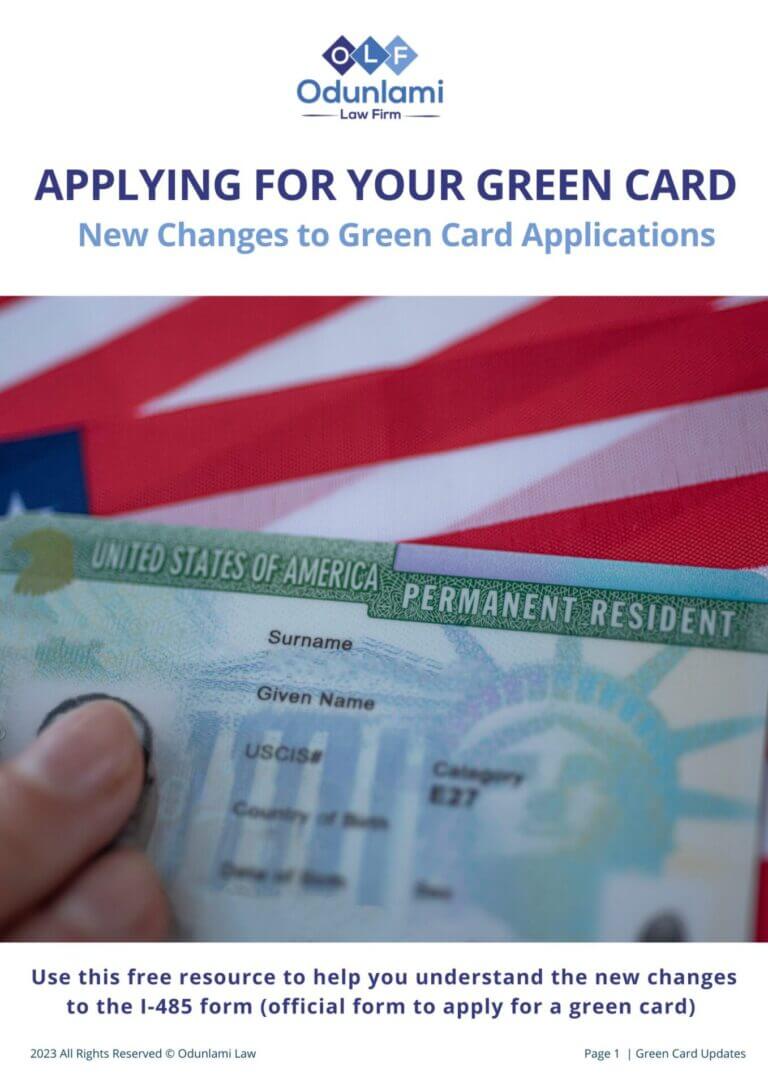 If you have any additional questions about obtaining your green card or are looking for immigration services, don't hesitate to contact the Odunlami Law Firm at 973-993-1900 or email us at support@odunlamilaw.com.
We can help you will your immigration needs.
Areas of Immigration Law:
Naturalization (Citizenship) Application

Immigrant Relative Petitions

Fiancé Visa Applications

Adjustment of Status and Consular Processing

Criminal Consequences and Deportation Defense

Violence Against Women Act (VAWA) Application

Special Immigrant Juvenile Status

Green Card Renewals

Temporary Work Visas

Temporary Protected Status

Deferred Action for Childhood Arrivals

Waivers