It is understandable to feel stressed out when trying to petition for your loved one and trying to figure out if you submitted your Form I-129F (Petition for Alien Fiancé) application correctly. However, according to recent statistics, about 85% of K-1 visas are approved. Therefore, the most important thing to remember is to correctly submit all the required documentation, including your proof of a bona-fide relationship, and be truthful about your relationship and your intention to marry. 
If you need additional guidance with your K-1 Visa, our immigration law firm in New Jersey can help you submit your K-1 visa petition. We work with clients locally, nationwide, and internationally. 
Requirements for a K-1 Visa
Before you petition for a K-1 Visa, you must meet all the requirements. These requirements include the following;
Must be engaged to a U.S. citizen and must have proof of their citizenship

A written statement with intent to marry and must have the intention of marrying within 90 days of them entering the United States.

Have proof of your relationship before you were engaged (photos, text messages, letters, travel receipts, letters from family members)

You must prove that you have met in person at least once in the past two years.

Copy of passport photos

Must get married within the United States

Proof that the U.S. Citizen partner can support the immigrant partner, a non-U.S. citizen, for the period of time the K-1 Visa is valid. (Miniminim requirement is $17,420 after deductions and taxes)

Previous marriages from either partner must be legally terminated.
Helpful tips for getting your K-1 Visa approved.
Below, our immigration law firm has put together some helpful tips to guide you through how to successfully gather the documents and evidence you need and submit your petition correctly. 
Gather enough evidence to prove your relationship is a bona-fide relationship.
USCIS will look into your relationship, although you know you are in a bona-fide relationship with the intention of getting married. However, the immigration officer does not know anything about your relationship. 
For this reason, you should gather as much information as possible to prove your relationship. As mentioned above, one of the requirements for a K-1 Visa is having proof that you have seen your partner at least once in the last two years. Keep in mind, you can never provide too much evidence. Evidence might include:
Photographs (dated, if possible)

Proof of spending time together within the last two years

Flight or hotel itineraries

Written testimony provided by friends, family, or colleagues

Any correspondence between you and your partner (emails, letters, cards)

Engagement photos/wedding plans 
Make sure you prepare for your interview.
Within 30 days following the initial approval, the sponsored fiancé will receive a notice informing them of the date and location of the upcoming interview and a list of all the necessary documents. It is so essential that you have all the required documents as well as practice with your fiancé for the interview. We have put together a list of the possible questions that you could be asked about your fiancé. Please use this list to practice together. 
Complete all the necessary forms.
When applying for a K-1 visa, you must complete all necessary forms correctly. Form I-129F is the first step in applying for the K-1 visa application process. However, there are forms you will also need to complete. For instance, once the I-129F is approved, the sponsored fiancé must complete the online DS-160 form, otherwise known as the Online Nonimmigrant Visa Application. Additionally, if your fiancé has children, you also need to submit a K-2 visa application. 
Social media can affect your application.
USCIS will take a serious look into your life and your life with your fiancé, including your social media. USCIS seeks evidence that your relationship is authentic, a bona-fide one. If what you post on social media contradicts what you submitted along with your petition, you risk your application being denied. This includes things such as; no evidence of your fiancé, travel dates don't match up, and you are living your life differently than what you have portrayed with your petition. 
Human error.
Everyone makes mistakes; sometimes, things get overlooked, or something needs to be completed correctly on applications. To prevent this from happening, it is always best to contact an experienced immigration attorney to ensure you meet all requirements, your application is submitted correctly, and you have gathered enough evidence.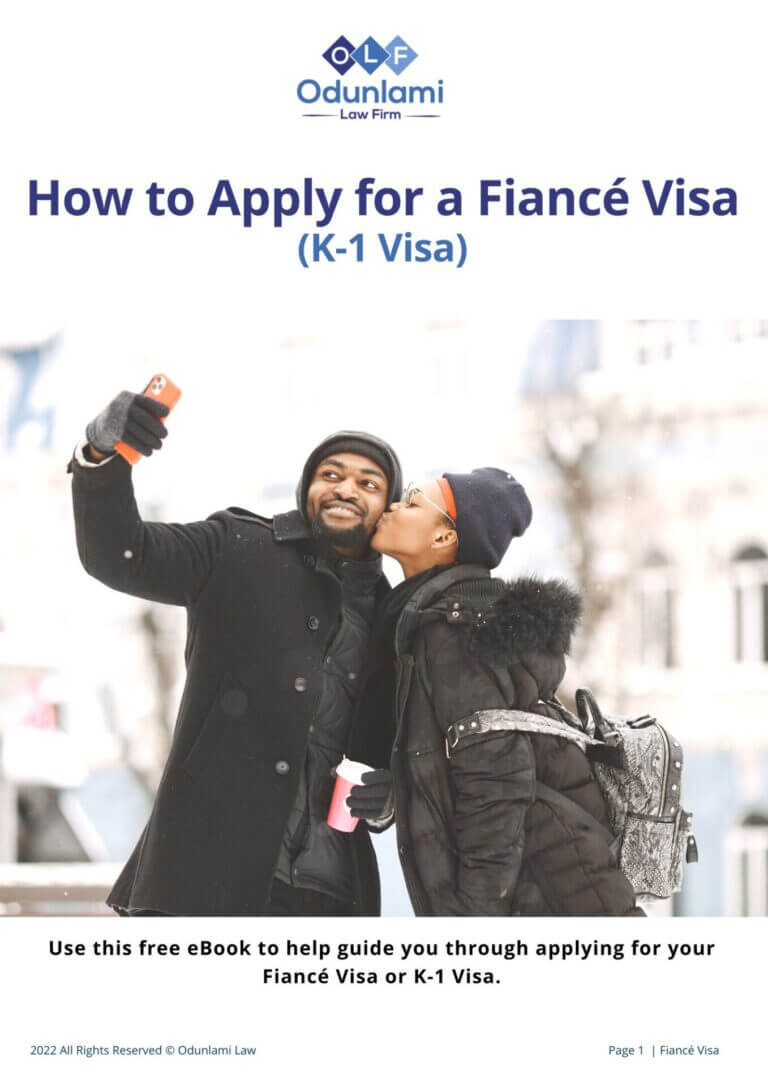 Subscribe To Our Monthly Newsletter Receive Our Monthly Immigration Free Resources
Are You Looking For An Experienced Immigration Law Firm? We Can Help. We Work With Clients Locally, Nationwide, And Internationally.
If you have any additional questions about obtaining your green card or are looking for immigration services, don't hesitate to contact the Odunlami Law Firm at 973-993-1900 or email us at support@odunlamilaw.com.
We can help you will your immigration needs.
Areas of Immigration Law:
Naturalization (Citizenship) Application

Immigrant Relative Petitions

Fiancé Visa Applications

Adjustment of Status and Consular Processing

Criminal Consequences and Deportation Defense

Violence Against Women Act (VAWA) Application

Special Immigrant Juvenile Status

Green Card Renewals

Temporary Work Visas

Temporary Protected Status

Deferred Action for Childhood Arrivals

Waivers