Transcript
Hello. This is Ifeoma Odunlami from Odunlami Law Firm in New Jersey, where we fight to help fellow immigrants attain the American dream.
So today I want to talk about a topic that may come as a surprise to you because I haven't talked about it before, but I want to talk about it because I want to clear up some misconceptions. What I want to talk about you may ask is marijuana. So now we all know that marijuana has been legalized in several states in New Jersey and Colorado and a whole bunch of other states. But I want you to know that under federal law, which immigration is, marijuana is still a controlled substance, and as such, the use the possession, the sale, or any connection with marijuana and other drugs can put your immigration petition in jeopardy.
So I want you to know that even if you live in a state where marijuana has been legalized, you cannot have any connection with marijuana. So for that, I also want you to make sure that you're not incriminating yourself in your social media posts or your text messaging or your email messaging, or even admitting to having a history of drugs. So, marijuana is still a problem in immigration. Drugs is a big problem in immigration.
So please, I want to make this clear that even if marijuana has been legalized in all the states, it is still a controlled substance in federal law, and immigration law looks at it as a problem in your petition. So for this and other tips, please make sure you follow my channel, Facebook, LinkedIn, Instagram and YouTube. My number is 973-993-1900.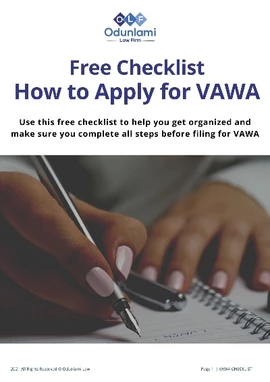 Subscribe to download the free eBook
Free Checklist: How to Apply for VAWA
Subscribe to our newsletter
Are you looking for immigration services or more information regarding your fiancé visa or marriage-based green card? We can help.
Contact the Odunlami Law Firm at 973-993-1900 or email us iao@odunlamilaw.com
If you need an employment visa, wish to immigrate, or want to help bring a family member to the United States, the Odunlami Law Firm can help. If you are facing deportation or removal for any reason, you need our help. You may contact the law office for more information or to schedule an appointment.
Areas of Immigration Law:
Naturalization (Citizenship) Application

Immigrant Relative Petitions

Fiancé Visa Applications

Adjustment of Status and Consular Processing

Criminal Consequences and Deportation Defense

Violence Against Women Act (VAWA) Application

Special Immigrant Juvenile Status

Green Card Renewals

Temporary Work Visas

Temporary Protected Status

Deferred Action for Childhood Arrivals

Waivers